Posted April 17, 2018
Ilim Group held a business conference in Zhengzhou, Henan, China, to discuss an increase in supply to this region. Ilim plans to increase its market presence and the share of products supplied to Henan, as the company says in the press release received by Lesprom Network.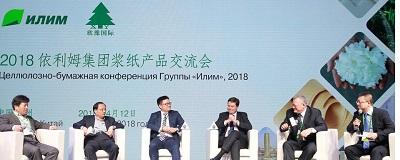 There is growth in fiber demand, primarily for bleached hardwood kraft pulp and packaging materials, driven by robust development of own paper production facilities in the province. Henan Xinyu Pulp & Paper International will be Ilim Group's distributor in Henan.
Dmitry Grechkin, Vice-President, Strategy & Product Management of JSC Ilim Group, said: "Currently, Ilim Group is recognized as one of the top-10 most popular and influential market pulp brands in China. In the next 5 years, Ilim Group plans to increase its total annual P&P volumes by over 500,000 tons, with most of the incremental softwood, hardwood pulp and kraftliner volumes intended for the Chinese market."
Ilim Group is Russia's leading pulp and paper company, a major exporter and one of the biggest companies in the industry globally.