Posted January 17, 2018
The new Voith XcelLine tissue machine TM 12 was successfully started up at Guangdong Lee & Man, taking only 28 minutes from "stock on wire" to "paper on reel", as the company said in the press release received by Lesprom Network.
From the very first parent roll produced, the tissue was of saleable quality. TM 12 was the fourth XcelLine tissue machine that was launched by Voith for Lee & Man in 2017; the previous three were TM 9, TM 10 and TM 11.
With a wire width of 5600 mm, the TM 12 is designed for a maximum operational speed of 2000 m/min. It will produce 60,000 tons of household tissue annually from virgin fiber.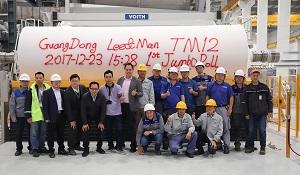 Lee & Man Paper Manufacturing Limited is one of the world's leading paper manufacturers, mainly producing packaging paper and tissue paper of different grades and specifications.

Voith Paper is a Group Division of Voith and the leading partner and pioneer in the paper industry.