Posted October 20, 2017
Impregnated Surfaces by Schattdecor has already announced investment in the Chinese impregnation location Saintdecor in Huanggang, China. With the conclusion of the contract for the joint venture at the end of March 2017, the company took over 50% of the Chinese impregnation facility. Construction work, assembly, and commissioning of the two impregnation plants are currently in high gear. Production at the first plant is set to begin before the end of this year, as the company says in the press release received by Lesprom Network.
"In order to be able to offer better service to the customers of the Schattdecor Group, Schattdecor has decided to invest in a new impregnation plant by the name of Saintdecor. These strategic measures are intended to account for the importance of China's growing market as well as ensure the best possible level of reliability of supply for our customers," says Philipp Zhou of Schattdecor, head of sales for China.
The offices are ready – furnished and equipped with computers and office supplies. The quality laboratory has also already been set up with the proper measuring devices and materials. After production begins, the remaining offices will be made ready one by one.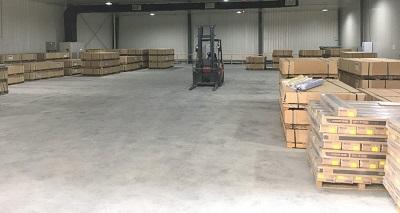 Construction of the climate-controlled storage facility for finished products is also completed, and the warehouse is already in use.
The plant is currently undergoing the initial phase of development, which involves the expansion of the basic equipment including two impregnation lines and a resin production area. Assembly of the first impregnation line is finished, and initial test runs have already been carried out.
The resin production area has already successfully prepared the first batches of resin. At the moment, the reactors and their software are still undergoing some fine tuning. And the storage area for raw materials has already been completed.