Posted November 30, 2016
Segezha Packaging's production facility in Aalborg, Denmark received the Food Safety System Certification (FSSC) following an audit completed by DNV GL, an international certification body and classification society.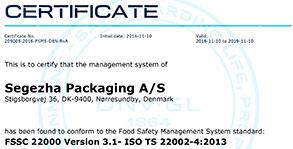 After a rigorous inspection process, the DNV GL auditors confirmed that the plant satisfactorily meets all the FSSC requirements, making the SP Denmark the first production facility within Segezha Group (affiliated to Sistema JFSC) to receive this certification.
Commenting on the certification, Artem Maslov, CEO of Segezha Packaging, stated, "The FSSC 22000 certification of the Denmark plant shows our commitment to safe food packaging by maintaining high quality production standards and assuring our customers and their consumers of compliance with these special measures from our side".
The FSSC 22000 is a voluntary certification based on ISO standards and recognized by the Global Food Safety Initiative (GFSI).
Segezha Group is one of the largest Russian forest industry holdings with the vertically integrated structure and a full cycle of logging and added-value wood processing.