Posted March 19, 2018
Valmet will supply two more containerboard production lines with related automation systems for Nine Dragons Industries Co., Ltd., China. The value of the orders will not be disclosed. The value of an order of this type and scale is typically around Euro 90-110 million, as the company says in the press release received by Lesprom Network.
The orders for the four previous machines were published in 2017 (PM 39 and PM 40, PM 41 and PM 42). The latest two production lines will be located in Dongguan (PM 43) and Quanzhou (PM 45) and are similar to the previous four containerboard production lines.
The two new containerboard production lines will be designed to produce high-quality testliner grades out of 100% recycled raw materials as the four production lines ordered last year.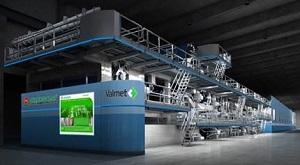 The start-ups of PM 43 and PM 45 are scheduled to take place within a few months' timeframe in 2019. The start-ups of the four previous production lines are scheduled to take place a few months apart from each other starting from mid-2018.
Valmet's deliveries for PM 43 and PM 45 container board making lines are similar to the four previous ones. The deliveries will include steam and condensate systems, broke collection pulpers for stock preparation, a board machine from headbox to winder including a full scope automation package and process ventilation equipment. PM 43 and PM 45 will produce testliner grades with a basis weight range of 75-140 g/m2.
Founded in 1995, Nine Dragons Paper Group is the world's largest in recovered paper based paper manufacturing in terms of production capacity.
Valmet is the leading global developer and supplier of process technologies, automation and services for the pulp, paper and energy industries.