Posted 六月 9, 2017
International technology Group Andritz has successfully completed start-up of the second tissue machine supplied to Hebei Yihoucheng in China.
The PrimeLineCOMPACT tissue machine has a design speed of 1,650 m/min and a width of 2.85 m. The Yankee, manufactured entirely of steel, has a diameter of 3.65 m.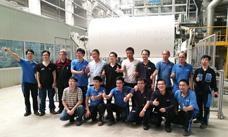 The order also included supply of the complete stock preparation plant, automation, and drives. The tissue machine and its components were manufactured at Andritz production sites in Europe and China.
Andritz Pulp & Paper is a leading global supplier of complete plants, systems, equipment, and comprehensive services for the production and processing of all types of pulp, paper, tissue, and cardboard.