Posted 七月 5, 2016
International technology Group Andritz has successfully started up a Papillon refiner for Sofidel in Lancaster, UK. The new LC-refiner is part of a major upgrade project of the stock preparation equipment and tissue machine at Sofidel's mill in Lancaster, as the company says in the press release received by Lesprom Network.
The aim of Sofidel's upgrade project was to increase the production capacity of the tissue production line and to improve the final product quality. The new machine is the fourth Papillon refiner installed in the Sofidel Group.
The Andritz Papillon cylindrical refiner has been successful on the market for 15 years and has proven its fiber development capability in tissue production lines as well as in specialty paper applications.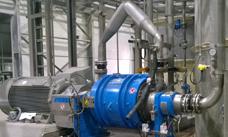 The Sofidel Group is one of the world market leaders in the production and conversion of tissue paper for hygienic and domestic use, such as toilet paper, napkins, kitchen paper, facials, and handkerchiefs.
Andritz Pulp & Paper is a leading global supplier of equipment, systems, and services for the production and processing of all types of pulp, paper, tissue, and cardboard.