Posted 八月 19, 2016
Andritz Oy has received an order from Stora Enso to supply state-of-the-art equipment for brown stock washing and oxygen delignification to the Veitsiluoto mill in Kemi, Finland, as the company said in the press release received by Lesprom Network.
The Andritz scope of supply includes a new DD-washer for brown stock washing and delignification systems to change from single-stage oxygen delignification to two-stage operation. Start-up is scheduled for autumn 2017.
This project is the main part of the mill's modernization program to reduce effluent emissions and improve both cost and energy efficiency. The rebuild will have a positive impact on the quality and uniformity of the pulp produced and will also substantially reduce the mill's chemical consumption.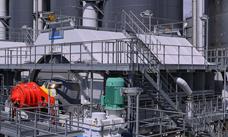 Stora Enso's Veitsiluoto mill in Kemi is an integrated production facility that manufactures not only pulp but also office papers, coated mechanical papers and sawn products.
Andritz Pulp & Paper is a leading global supplier of equipment, systems, and services for the production and processing of all types of pulps, paper, tissue, and cardboard.