Posted 七月 18, 2016
International technology Group Andritz has received an order from S.A. Industrias Celulosa Aragonesa (SAICA) to supply a FibreFlow drum pulping system for its paper mill in El Burgo de Ebro, Spain, as the company said in the press release received by Lesprom Network.
Andritz will supply a latest-generation FibreFlow drum FFD - including the complete feeding and dewiring system - for a new OCC line. The state-of-the-art Andritz pulping system ensures high fiber yield from various waste paper streams and reliable operation.
The scope of supply also includes complete erection, start-up and commissioning, and training. Start-up is scheduled for September 2017.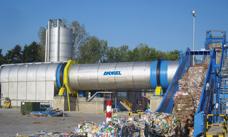 SAICA Group is the leading European company for the production of recycled paper for corrugated cardboard, with an annual production of 2.5 million tons of paper.
Andritz Pulp & Paper is a leading global supplier of equipment, systems, and services for the production and processing of all types of pulps, paper, tissue, and cardboard.