Posted 七月 13, 2016
International technology Group Andritz has received an order from S.A. Industrias Celulosa Aragonesa (SAICA) in El Burgo de Ebro, Spain, to supply a gravity table GT and a sludge screw press SCS. SAICA already has two Andritz dewatering lines of the same type and size operating to its full satisfaction, as the company said in the press release received by Lesprom Network.
The new sludge dewatering system will process mixed sludge from stock preparation, deinking, and waste water treatment. The scope of supply also includes erection supervision, start-up and commissioning, and training. Start-up is planned for November 2016.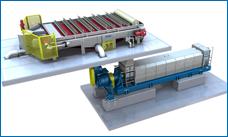 SAICA Group is the leading European company for the production of recycled paper for corrugated cardboard, with an annual production of 2.5 million tons of paper.
Andritz Pulp & Paper is a leading global supplier of equipment, systems, and services for the production and processing of all types of pulps, paper, tissue, and cardboard.