Posted 九月 14, 2016
Deere & Company announced changes to its senior management team in response to the planned retirement of a member of the company's leadership team later this year.
The following changes are effective November 1:
Michael J. Mack, Jr., 59, will retire as Group President, John Deere Financial Services, Global Human Resources and Public Affairs.
Marc A. Howze, 53, is appointed Senior Vice President and Chief Administrative Officer.
Cory J. Reed, 45, is appointed President, John Deere Financial.
Michael J. Mack, Jr. is retiring after more than 30 years of distinguished service. His wide-ranging career included assignments in information systems, finance, engineering, manufacturing, marketing and credit. He worked in four business divisions at Deere and was based in multiple U.S. cities as well as in Europe.
As CFO, Mack's leadership during the 2008 financial crisis allowed the company to maintain uninterrupted access to the credit markets.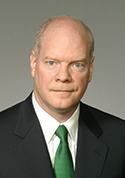 As President of the Worldwide Construction & Forestry Division, Mack oversaw expansion of its product line, updating of the manufacturing capabilities, and broadening of its global operations.
Howze is currently Vice President, Human Resources. His responsibilities will now expand to include human resources, labor relations, public affairs, communications, brand management, and security. This position will focus on improved integration of important enterprise functions to drive employee engagement and effective execution of the John Deere Strategy.
Reed is currently Senior Vice President in the Worldwide Agriculture & Turf Division with responsibility for the Intelligent Solutions Group. He has been instrumental in developing and implementing Deere's precision agriculture strategy.