Posted 九月 13, 2017
[if gte mso 9]>
Normal
0
false
false
false
MicrosoftInternetExplorer4
Södra is strengthening the long-term competitiveness of its planing operations and intends to co-locate the units in Ronneby and Kallinge, Sweden, as the company says in the press release received by Lesprom Network.
The new proposed location will be in Kallinge, where SEK 25 million ($3 million) is to be invested in upgrading to a paint system that is more environmentally sustainable, in new machinery and in improvements to the logistics centre.
These measures will lead to efficiency enhancements and trade union negotiations in accordance with the Co-Determination in the Workplace Act (MBL) will start immediately.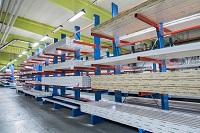 "We are now planning to invest in line-based production in Kallinge to strengthen competitiveness and are moving the warehouse in Ronneby to Kallinge in autumn/winter 2017, which will also improve the work environment. We will then move production in summer 2018 and cease production and logistics in Ronneby. Processes in marketing, logistics, order handling and general administration will also be streamlined. There is strong demand for interior wood products, with growth in the building materials trade of more than 4% for the first six months of 2017. The proposed changes will improve conditions to establish competitive interior wood operations," said Peter Karlsson, segment manager for Interior Wood.
Slightly more than 55 employees of the total 142 employees in Ronneby and Kallinge will be affected by the restructuring. MBL negotiations will begin immediately. Kallinge and Ronneby have joint priority rules for the order of termination and the two facilities are only three kilometres apart, which makes commuting to a new unit easier.