Posted 七月 28, 2016
Sun Paper successfully started up its new kraft liner paper machines with an annual capacity of 800,000 metric tons at its location in Zoucheng, China. The main paper machine, the right-hand machine PM 31 and the left-hand machine PM 32, are both provided by Voith, as the company says in the press release received by Lesprom Network.
With a production width of 6,660 mm and an operating speed of 1,200 m/min, the PM 31 produces testliner in the basis weight range of 110 to 250 g/m2. It adopts the cutting edge technology of the three layer MasterJet headbox, the Tandem NipcoFlex shoe press and the SpeedSizer as well as the hard nip calender.
The installation of the PM 31 started in October 2015 and it became operational on July 10, 2016, an impressive achievement in the domestic papermaking industry.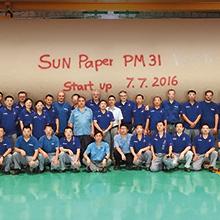 With a relentless effort and close cooperation of the special taskforces from Voith and Sun Paper, the PM 31 achieved paper on reel earlier than Sun Paper had anticipated. In addition, it took only 12 hours from stock on wire to paper on reel. And it only took one day to produce saleable paper. Moreover, the PM 31 is running quite smoothly and stable after startup.
The left-hand machine PM 32 is expected to start up on August 8, 2016. The PM 32 adopts the advanced technology of "one headbox, two layers" with tandem NipcoFlex, surface sizing and hard nip calendar. It produces corrugating medium and testliner in the basis weight range of 90 to 140 g/m2.
With Fourdrinier (top layer) and DuoFormer D II (bottom layer), the PM 32 can guarantee product quality at a high operating speed. In addition, the PM 32 is the first paper machine to adopt the most advanced double layer headbox MasterJet Pro F/B2, which offers high efficiency, good formation, even basis weight, high paper strength and stable quality for production of top-quality kraft liner paper of low basis weight.
Sun Paper, headquartered in Shandong Province, is a major paper manufacturer in China, with an annual pulp and paper manufacturing capacity of 4.5 million metric tons.
Voith Paper is a Group Division of Voith and is one of the leading partners and pioneers in the paper industry.