Posted 十月 17, 2016
Valmet has developed a totally new concept for quality oriented process control of corrugating machines, as the company said in the press release received by Lesprom Network.
This includes cost- and space-efficient Valmet IQ Multipoint Moisture Measurement system and a new camera based Valmet IQ Warp Measurement for the combined board flatness control.
Previously, corrugating machine process control has been based on sheet temperatures due to a lack of suitable moisture sensors built for the tight confines of corrugating machines.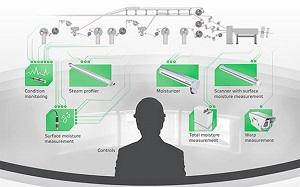 Valmet's experience from paper machine processes has shown that temperature measurements alone are not sufficient when controlling fiber based web processes and moisture measurements are needed to maximize productivity and decrease quality defects.
"We are now challenging the methods of traditional corrugator control with new technology, methods and concepts in an area that has previously been somewhat ignored by higher level automation. We have found out that efficient moisture control in addition to temperature control improves gluing, reduces fluting defects or washboard and eliminates warp in the final product. Our approach, which emphasizes the cost effectiveness of solutions, is being met with enthusiasm across the industry," says Mikko Talonen, Business Manager, Automation, Valmet.
Valmet is the leading global developer and supplier of process technologies, automation and services for the pulp, paper and energy industries.