Posted 九月 27, 2017
Valmet
has opened a new service center in Cikarang, Indonesia, to serve its customers in the Asia Pacific area, as the company said in the press release received by Lesprom Network.
Valmet
's Indonesian service center offers services to improve the reliability and performance of the customers' processes in the energy, pulp and paper industries. Through the center
Valmet
provides its customers also with new technologies to take their production to the next level. The Indonesian service center's range of offering comprises among others roll services, fiber line services, field services, machine section upgrades and improvement projects.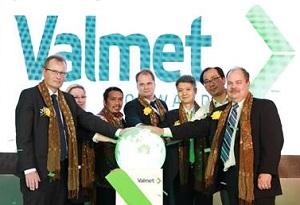 The new service center is the latest addition to
Valmet
's global network of over 100 service centers. The new center employs more than 100
Valmet
professionals.
Valmet
is the leading global developer and supplier of process technologies, automation and services for the pulp, paper and energy industries.