Posted 十月 13, 2016
Valmet will deliver two Advantage NTT tissue lines including stock preparation equipment and automation systems to Sofidel America's new greenfield plant in Circleville, Ohio. Both lines will be started up during 2018, as the company said in the press release received by Lesprom Network.
The new tissue machines will have a design speed of 1,800 m/min in textured mode and 2,000 m/min in plain mode. The production lines are optimized to save energy and fiber as well as add possibilities for product differentiation and increased capacity of premium quality products. Each line will have an annual production capacity of 70,000 tons.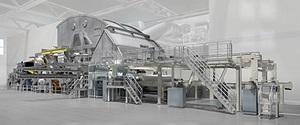 The Sofidel Group, a privately held company, is one of the leading manufacturer of paper for hygienic and domestic use worldwide.
Valmet is the leading global developer and supplier of process technologies, automation and services for the pulp, paper and energy industries.