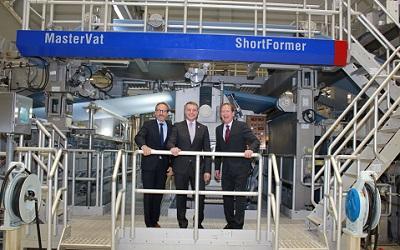 With the opening of its new production facility in Krasnokamsk, Russia, Goznak Group has commenced operation of one of the world's most modern paper machines for banknotes and specialty papers. The entire plant was developed under the direction of Voith, as the company said in the press release received by Lesprom Network.
The Russian Goznak Group successfully commissioned the PM 7, one of the world's most modern production facilities for banknotes and specialty papers, at one of its eight locations in Krasnokamsk in central Russia.
One of the key components of the paper machine is the forming section. It contains a MasterVat, an optimized uniflow vat in which the watermark is created at the same time as the banknote paper, and the ShortFormer for the first ply of the two-ply papers. Both of these components ensure the high quality of the products. At the same time, they allow the integration of reliable security features or multi-colored watermarks.
The high degree of automation in Krasnokamsk is the cornerstone for the security of the papers. For example, there is an automatic quality control in all phases of paper production. At the same time, this increases the efficiency of the plant and helps to substantially reduce raw material losses and running costs.
The Group Division Voith Paper is part of the Voith Group and a leading full-line supplier as well as pioneer in the paper industry. Through constant innovations Voith is optimizing the paper manufacturing process and facilitating resource-conserving production.