The European pallet-pooling specialist LPR-La Palette Rouge (a Division of Euro Pool Group), LPR inaugurated the new automated line of its service centre in Grand Fougeray, France, with its main customers from industry and the fast-moving consumer goods sector in attendance. This centre of more than 18,000 sq.m handles over 2.5 million pallets each year. The new automated line will manage far more, as the company says in the press release received by Lesprom Network.
For Patrick Lahaye, Chairman of the Lahaye Group, said: "This is an investment in the future. We are convinced that the pallet-leasing market is set to develop strongly in the years to come. We are therefore committed to building a long-term partnership with LPR by becoming its primary service provider in Western France. This is why we have also invested in a new building south of Poitiers that will open in early April, and at the beginning of the year our Carhaix site moved to facilitate the development of our activity on the western tip of Brittany."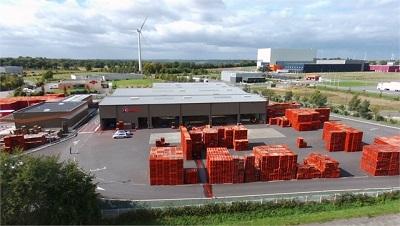 Lahaye Global Logistics thus proposes a full pallet-leasing service to its customers at the three sites of its Lahaye Packaging subsidiary, involving collection, sorting, storage and delivery.
This partnership will enable LPR to increase its storage capacity, improve the efficiency of its services and optimise supply chain flows in the region. By getting closer to its customers, LPR considerably reduces the logistic circuits and therefore its CO2 emissions, which is a fundamental aspect of the environmental commitments it has been pursuing for several years.
LPR-La Palette Rouge, a division of Euro Pool System Group, is a pallet-pooling company for manufacturers and distributors in the fast-moving consumer goods sector.