Sawmillers and loggers alike breathed a sigh of relief last week as North American construction framing dimension softwood lumber prices stopped falling, with several key items recovering from recent lows, said Madison's Lumber Reporter. Production curtailments over the 2019 building season did well to keep supply tight enough for sawmills to push their order files into October; four weeks is a nice healthy time frame for the beginning of autumn. Lumber sellers reported customers reluctant to buy anything beyond immediate needs, but that trepidation did nothing to get lower price quotes from sawmills. All eyes are now on US Thanksgiving, which usually signals the end of building weather and the beginning of true annual slow-down for forest operators.
After terrifying drops this summer, lumber prices are slightly up from last week. This week's benchmark lumber commodity Western Spruce-Pine-Fir KD 2x4 #2&Btr price was US$376. After a big jump over one-month-ago last week, this week's price is up another +$6, or +2%, from one month ago. Compared to one year ago, this price is down -$100, or -21%. Yet more sawmill curtailments spurred buying, as reduced production for 2019 so far has brought down supply volumes significantly.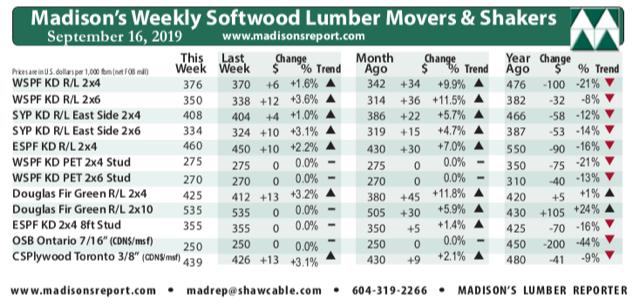 Compared to historical trend, this week's WSPF KD 2x4 #2&Btr price is up +$11 relative to the 1-year rolling average price of US$365 mfbm. This price is down -$71, or -16%, relative to the 2-year rolling average price of $447. On the west coast, Douglas fir sawmills remained staunchly in the driver's seat, with lumber production order files typically as far out as September 23rd, and pushing even farther.
There was a lot of new inquiry for WSPF producers in Canada last week, especially after West Fraser announced Monday that it will begin variable operating schedules at five of the company's BC sawmills, resulting in an estimated reduction of its current capacity in the province by 15-25 per cent. The announcement is the latest in a barrage of curtailments and closures in 2019 due to weak markets and pricing. Sawmill order files now stretched into the week of September 30th on most items.

Eastern Canadian lumber purveyors reported scurrying activity among buyers, following another batch of curtailment announcements out West. Secondary suppliers continued to get more attention from customers, due to quicker shipment and marginally lower prices. However sawmills also got more business each day as distributers and wholesalers ran lower on volume later in the week. Producers extended their order files into late September, with a few almost into October.
The below table is a comparison of recent highs, in June 2018, and current September 2019 benchmark dimension softwood lumber 2x4 prices compared to historical highs of 2004/05 and compared to recent lows of Sept 2015: