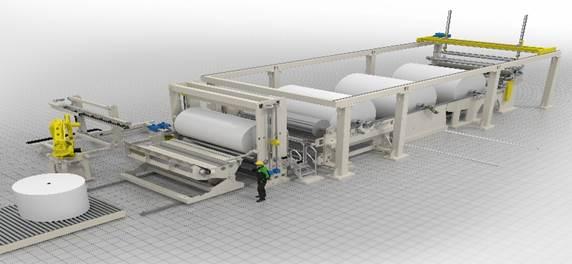 The Spanish company Papel Aralar S.A. has selected Valmet as the supplier for a new nonwovens rewinder to be installed in the existing PM 4 line at their plant in Amézqueta, Guipúzcoa, Spain. The new nonwovens rewinder is planned to be in operation during the 2Q 2019, as the company says in the press release received by Lesprom Network.
The new installation includes a Valmet F(O)CUS Reelite T15 E rewinder - the last stage of the innovative scalability concept of the Reelite T15 rewinder.
The machine is designed to have a maximum operating speed of 1,800 m/min and a maximum final reel diameter of 2,200 mm. It is equipped with a F(O)CUS electromechanical relieving system with Active Caliper Control (ACC) for perfect control of the winding parameters at high speed.
The shaft handler system, defect management system and connection with the existing packaging system complete the scope of supply.
Valmet is the leading global developer and supplier of process technologies, automation and services for the pulp, paper and energy industries.