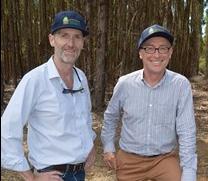 Australia's Kangaroo Island Plantation Timbers Ltd. (KIPT) announces that Keith Lamb will commence as its new Managing Director next month. Current Managing Director John Sergeant will remain in an executive capacity and will continue as a director while Mr. Lamb takes overall responsibility for the next phase in the company's transition to profitable and sustainable operations.
Keith
Lamb was Director of Operations and Portfolio Manager for New Forests Asset Management from 2005 until 2017, with responsibility for $2.5 billion in timberland and related agricultural and industrial assets, including the blue gums on Kangaroo Island later bought by KIPT.
John
Sergeant would continue to be involved in the current development approval process, enabling Mr Lamb to focus on the company's medium to long term growth.
Kangaroo Island Plantation Timbers is Australia's only listed timberland company. It manages a wholly-owned portfolio of hardwood and softwood forestry plantations, growing on former agricultural land on Kangaroo Island, South Australia.