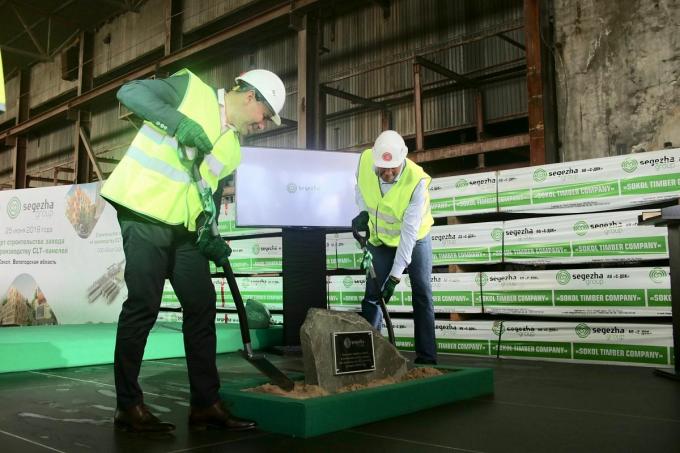 Segezha Group starts the construction of the first Russian CLT plant in Sokol, Vologda region. The amount of investments in a new manufacturing facility is over RUB 3 billion ($47.6 million), and the capacity of a future plant is 250,000 m2 units per year, as the company says in the press release received by Lesprom Network.
Oleg Kuvshinnikov, governor of the Vologda region, and Mikhail Shamolin, President and Board Chairman of Segezha Group took part in a symbolic ceremony of laying the foundation stone of the future plant.
The future plant is located on the industrial site of the Russian leader by production volume of construction beams and glued laminated lumber, the Sokol Integrated Woodworking Plant. The final equipment batching for the CLT plant (over 90 items) has been bought from Ledinek (Austria). Equipment delivery and mounting are planned for May 2020.
"We are laying the first stone, a symbolic capsule to mark the start of CLT plant construction; it will be the first plant of such a quality in Russia. With a new kind of construction material, we hope, a large number of residence buildings will be built in the country soon, not individual houses only, but also multistory multifamily houses and office blocks as an alternative for concrete and brick houses," said Mikhail Shamolin, President of Segezha Group. "We have already designed the plant, chosen the equipment supplier, signed the agreement and pre-paid; the equipment is being made already, and deliveries will start in the beginning of the next year. By the end of the 1Q 2020 equipment will be fully delivered to the site. And I hope, by late summer or early autumn next year we will produce the first trial panel to turn to commercial operation in the end of the year."