Posted 十月 11, 2016
International technology Group Andritz has successfully completed the start-up of the second of two supplied PrimeLineTM W8 tissue machines with steel yankees at the St. Croix tissue mill in Maine, USA.
The machine has a design speed of 2,000 m/min and a width of 5.6 m. The yankee is manufactured entirely of steel and has a diameter of 18 ft. It enables efficient drying at minimized energy costs and safe operation. As a special feature, the Yankee's design enables the option of production with shoe press.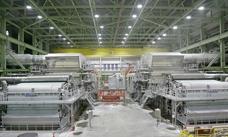 Both machines – the first of the two tissue machines started production in the second quarter of 2016 – have an aggregate capacity of 126,000 t/y for the production of hygienic papers and napkin tissues.
Andritz Pulp & Paper is a leading global supplier of equipment, systems, and services for the production and processing of all types of pulp, paper, tissue, and cardboard.