Posted 七月 26, 2016
International technology Group Andritz has received an order from the Italian Pro-Gest Group to deliver the complete waste paper processing plant and approach system for its new paper machine in Mantova, Italy, as the company said in the press release received by Lesprom Network.
Andritz will deliver the OCC (old corrugated containers) line for the top ply; MW (mixed waste) line for the back ply; paper machine approach system including Shortflow Deaeration; as well as the broke handling, fiber recovery, and reject handling systems. The scope of supply also includes engineering, erection supervision, start-up, commissioning, and training. Start-up is scheduled for September 2017.
The state-of-the-art equipment supplied by Andritz fits perfectly with Pro-Gest's requirements for high-speed paper production. The paper machine is targeted to produce 550,000 tons of fluting per year from 100% waste paper.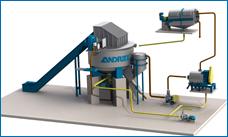 Owned by the Zago family, Pro-Gest is Italy's leading vertically integrated producer of packaging in corrugated board, active in all fields, from the collection of raw materials to packaging production.
Andritz Pulp & Paper is a leading global supplier of equipment, systems, and services for the production and processing of all types of pulp, paper, tissue, and cardboard.