Posted 八月 10, 2016
In a sales environment similar to the first half of 2015, the Europac Group (Papeles y Cartones de Europa, SA) recorded a net profit of Euro 20.9 million, 75.7% more than Euro 11.9 million recorded last year. The EBITDA reached Euro 60.3 million in first half of the year, 17.3% more than in 2015, as the company said in the press release received by Lesprom Network.
Additionally, the Group's EBIT for the first half of 2016 reached Euro 35.9 million, an increase of 30.9%, while the pre-tax profit increased 56.8% thanks to improvements in financing conditions of the syndicated loan signed in July 2015.
In this context, financial costs dropped 27.4% compared with the first half of last year. In absolute terms, financial costs went from Euro 9.5 million in the first half of 2015 to Euro 6.9 million in the same period this year.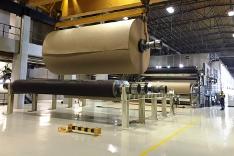 The Chairman of Europac, José Miguel Isidro, emphasised that "the results obtained in the first half of 2016 confirm the positive evolution of the Europac Group's businesses, which are meeting the deadlines set for achieving the profitability and debt reduction objectives defined in our strategic plan".
The improvement of the results in the period from January to June 2016 has been seen in the Paper and Packaging Divisions. In both divisions, the improvements from internal management projects implemented by the company have been key. Such projects have allowed the company to reduce its dependency on external factors, thus strengthening the stability and the solidity of its results.
The Europac Group (Papeles y Cartones de Europa, SA) is an integrated operator with activities in all areas of the paper and packaging industry value chain, from end-to-end waste management and forestry operations for the procurement of the raw materials necessary for the production of recycled paper and kraftliner at the Group's plants in Spain, France and Portugal, to the manufacture of cardboard sheets and boxes as end products.