Posted 十月 18, 2016
Koskisen appointed Lutz Noeske and Mika Lehmonen as new salesmen in the company's sawn timber sales.
Mika Lehmonen started working at Koskisen in early 2016 as Export Manager for redwood sawn timber. Koskisen gained considerable marketing and product knowledge related to sawn timber sales, as well as experience in sales planning all in one go.
And reinforcing Koskisen's operations in Germany is Sales Manager Lutz Noeske, who works in close proximity to its central European customers.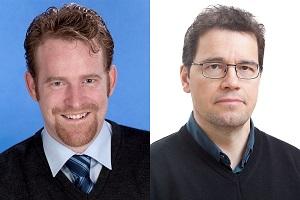 Both men bring with them solid international know-how, as well as a respect for and commitment to Finnish timber.
Mika and Lutz both have high praise for the quality of Finnish sawn timber. A tree that grows slowly in a harsh climate is first-rate material and in high demand.
"Since trees grow more slowly in Finland, the resulting sawn timber is stronger than the timber produced in Central Europe," confirms Lutz. According to Lutz, there is a clear difference between Finnish and German timber, and the difference is appreciated in the German market. Demand is high also in other countries.
Koskisen is a family business committed to wood.