Posted 八月 25, 2017
Pesmel will supply world largest to be paper mill rack type automated roll warehouse (ARW) to SAICA Paper's El Burgo de Ebro mill in Spain. This mill produces with three paper machines board grades 1.3 million tons annually. The new ARW will also store and distribute rolls from SAICA Zaragoza mill, as the company says in the press release received by Lesprom Network.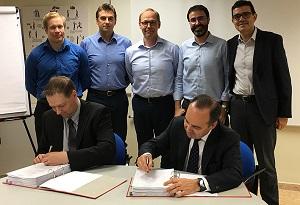 This TransRoll storage will be erected right after the PM's in two phases middle of ongoing mill production. Existing manual clamp truck operated warehouses will be torn down to make space for the new automated TransRoll storage, a temporary storage will be erected adjacent to the existing warehouse, in order to maintain the storage capacity during the construction period.
Phase 1 production start-up will be in the 1Q 2019, and Phase 2 is planned to follow after that. Total storing volume after both phases has been commissioned will be 70,000 tons.
"The need for automated storage concepts in paper mills, both as intermediate roll storages between different production stages and as shipping distribution centers, is growing strongly. Simple reason for this is the industry's shift from bulk production to more diversified production, and the need to respond to customer orders within days instead of weeks. Pesmel's Material Flow concept offers perfect tool for this strategic change," says Kaj Fahllund, Vice President of Pesmel's paper business.
Pesmel is global supplier of highly automated internal logistic, storing (AS/RS) and packing systems for the metal, paper and converting industries.
SAICA Group is a leading company in Spain in the manufacturing of corrugating board with a capacity of 2.5 million tons of paper.