Posted 九月 21, 2016
The biggest European Steel Yankee Dryer for tissue production, a Toscotec TT SYD-18FT (5600mm wide), has been successfully started up at WEPA Cassino mill in Italy. The PM3 rebuilding project was commissioned to Toscotec, WEPA's long-term partner, continuing the process of investments in order to upgrade the plant and to achieve the best available technology in tissue making.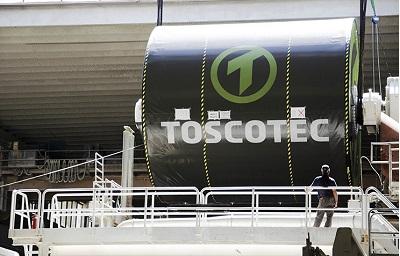 "High quality of product and energy saving were at the base of the project. WEPA is going to get more and more relevance in the European market. Cost Leadership and attention to consumers and customer needs, as well as sustainability in company management and production, is part of WEPA´s future strategy," says Bernhard Gross, Managing Director of WEPA Italia srl.
The scope of the supply included also a double layer fully hydraulic TT Headbox-MLT with polished pipes and a Yankee steam & condensate removal system. All equipment was provided on a turn-key basis including engineering, supervision and installation.
Toscotec is a turnkey supplier to the global tissue industry.