Posted 九月 6, 2016
Vinda Paper (China) Co., Ltd. in Sanjiang mill, Jiangmen, has started up two new Toscotec's machines, TM 9 & 10. Both machines are AHEAD-2.0M with a design speed of 1,800 mpm, as the company says in the press release received by Lesprom Network.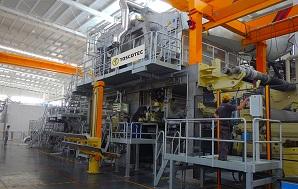 Vinda's Sanjiang mill in Guangdong province has now ten Toscotec tissue machines of different models and configurations. Considering the start-ups of TM9 and TM10, the Chinese producer has achieved startup of all 10 machines in less than four years. This is a testament to the outstanding growth and sustained progress of the Vinda Group, and to Toscotec's strategic development of customized design and state-of-the-art solutions for energy reduction.
Vinda Group's production capacity has reached over 1 million t/y now.
Toscotec is a turnkey technology supplier to the global paper industry, offering a complete suite of solutions for the tissue, paper and board manufacture, as well as maintenance services for rolls and cylinders.