Posted 七月 13, 2016
Wood-Mizer LLC introduces the groundbreaking Vortex® sawdust-removal bandsaw blade, as the company says in the press release received by Lesprom Network.
Available now in North America, Wood-Mizer's new Vortex® blade is engineered for pallet producers who need boards as free from excess sawdust as possible.
Developed by long-time, hands-on Wood-Mizer Blades Specialist Chris Vogel, the Vortex® blade removes dust while sawing in order to minimize or eliminate the need for sawdust removal after the lumber is processed. This extremely unique blade profile has generated positive results in high-production pallet factory tests.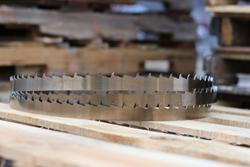 Wood-Mizer LLC is the world's leading portable sawmill manufacturer.