Posted 八月 26, 2016
Wood-Mizer LLC introduces three new log splitters to their diverse line of wood processing equipment. Manufactured in the USA, Wood-Mizer's new log splitter line is designed for farm operations, small businesses, and commercial wood splitting companies.
Offering three portable, heavy-duty log splitter models, the Wood-Mizer FS300, FS350, and FS500 Log Splitters offer many unique features to the log and wood splitting market. Portability, bi-directional splitting, uniform firewood production, and an efficient and ergonomic operator location make Wood-Mizer Log Splitters a profitable investment for firewood producers.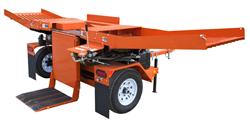 "Throughout our history, Wood-Mizer has been committed to providing the best quality equipment to process logs into marketable wood products," said Wood-Mizer COO Darryl Floyd. "The introduction of our log splitting product line now offers firewood producers a safe and efficient product backed by the high-quality and service you expect from Wood-Mizer."
Wood-Mizer LLC, the world's leading portable sawmill manufacturer, offers an extensive line of portable sawmills, industrial headrigs, resaws, edgers, kilns, log splitters, material handling equipment, bandsaw blades and blade maintenance equipment for woodworking hobbyists and forestry professionals all over the world.