Posted October 4, 2017
Andritz has successfully started up another upgraded screw press, installed at the Joutseno mill of Metsä Board in Finland. This upgrade follows a separate screw press rebuild for Metsä Board Joutseno that was completed successfully in late 2016.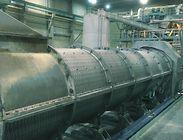 The rebuild of both screw presses (#21 and #22) included installation of a new Low-Energy Screw Shaft (LESS) as well as split grooved baskets for the medium-pressure zone in order to widen the operating window of the presses and allow higher production rates. The design of the LESS enables a new compression curve, resulting in a higher throughput at the same installed power.
The screw press upgrades are part of the step-by-step optimization of the BCTMP (bleached chemi-thermomechanical pulp) process that is currently in progress, with the overall aim of improving the availability of the plant. Press #21 is used as a wash press, and press #22 acts as a secondary stage in the washing process.
Metsä Board is a leading European producer of premium fresh fiber paperboards, including folding boxboards, food service boards, and white kraftliners.
Andritz Pulp & Paper is a leading global supplier of complete plants, systems, equipment, and comprehensive services for the production and processing of all types of pulp, paper, tissue, and cardboard.