Posted October 12, 2017
Maria Baldin has been appointed the new Director of Communications and Sustainability at Södra. She will assume her position on 1 January 2018 and will be a member of Group Senior Management, reporting to President and CEO Lars Idermark.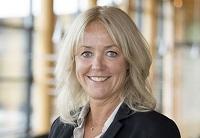 Maria Baldin is 50 years old and most recently served as the Head of Communications and Sustainability Officer at Siemens Sweden. She has previously worked at Bewator, Comex Electronics and Bennett BTI Nordic. Maria has extensive and broad experience with a clear business focus.
Roine Morin, who has served as a highly competent Sustainability Director for many years, will gradually reduce his work load in 2018 and subsequently retire.