Posted July 21, 2016
Sergey Pomelov, the President and Chairman of the Board of Segezha Group (part of Sistema JSFC) and Vasily Golubev, the Governor of Rostov Oblast, have signed a Memorandum of cooperation between the regional government and Segezha Group.
The parties have agreed to cooperate in implementing an investment project important for the region — the development of paper bag production in Rostov Oblast. Segezha Packaging Ltd.'s project in Salsk is included on the list of "The Governor's 100 investment projects" which have social and economic importance for the region's development.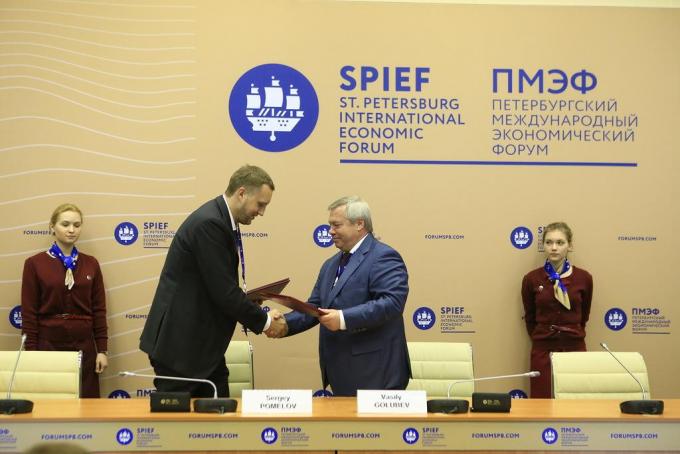 The modern multifunctional paper packaging mill (a subsidiary of Segezha Packaging Ltd. in Karelia Republic) has been build in Rostov Oblast in record time. A total of 1.5 billion rubles ($23.3 million) have been invested in the project upfront. The enterprise is designed for three production lines. The first line, capable of manufacturing up to 90 million paper bags a year, has been launched in March 2016.
Installation of the second line will begin in Autumn, the third line is to be installed in 2017. Therefore, by the time the enterprise will reach its full capacity, it will be capable of manufacturing over 200 million paper bags a year.
The new enterprise will allow us to guarantee the supply of high quality packaging to most regions of the Southern Federal District. Segezha Group is to invest around 3 billion rubles in the project in total. Around 53 million rubles ($0.8 million) in taxes are expected to be paid into the budgets at every level in the first year alone.
Segezha Group is the largest vertically integrated forest industry holding company in Russia providing the full cycle of logging and added-value wood processing. The holding comprises Russian and European enterprises in the forest, woodworking and pulp and paper industries.