Posted November 30, 2016
UPM has successfully tested Finnish wood-based diesel fuel both in laboratory conditions as well as in traffic. The tests clearly demonstrated that UPM's renewable diesel, UPM BioVerno, works just like the best diesel fuels, as the company says in the press release received by Lesprom Network.
The laboratory tests of renewable UPM BioVerno diesel were conducted in the VTT Technical Research Centre (VTT) and field tests in Helsinki region bus traffic together with Helsinki Region Transport (HSL). The year-long bus field tests' measurements were done by VTT, and the tests were also supported by Transdev Finland Oy, Volvo and St1.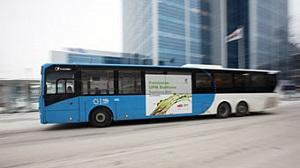 The first laboratory tests were done with Euro III Class buses, which are still widely used on Finnish roads even today. UPM BioVerno diesel produced clearly lower emissions than fossil diesel. Compared to other advanced fuels, the emissions of UPM BioVerno diesel were at least as low as theirs.
UPM's renewable diesel, known as UPM BioVerno, is an innovation that will reduce greenhouse gas emissions by up to 80% and tailpipe emissions significantly when compared with fossil fuels. This high quality biofuel is produced from a residue of the pulp industry, crude tall oil. UPM BioVerno is an ideal fuel for all diesel-powered vehicles.
UPM started the production of wood based renewable diesel in the UPM Lappeenranta Biorefinery in January 2015. The production capacity of the biorefinery is 120 million litres of renewable diesel annually.