Posted October 6, 2017
Valmet will supply a Valmet Brown Stock Quality Analyzer (Valmet Kappa Q1) for CMPC Celulosa in Santa Fe, Chile for its fiber line 1 producing ECF (Elemental Chlorine Free) bleached eucalyptus pulp. To be installed in the blow line of the continuous digester, the Valmet Kappa Q1 will provide rapid and frequent Kappa number information for better digester and subsequent O2 stage control.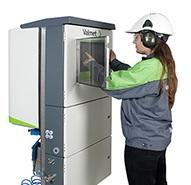 The new Valmet Kappa Q1 has been developed as a stage specific analyzer to provide increased measurement frequency of Kappa number in high yield kraft pulping.
"The increased measurement frequency fulfills all pulping process control needs and safely provides the genuine pulp Kappa number in dedicated process stage applications from unbleached brown stock pulp to oxygen delignification," says Risto Rinne, Fiberline Analyzer Business Manager, Valmet.
Santa Fe is the largest Bleached Eucalyptus Kraft pulp mill in Chile with production capacity of 1,425,000 ADt/year.
Valmet is the leading global developer and supplier of process technologies, automation and services for the pulp, paper and energy industries.