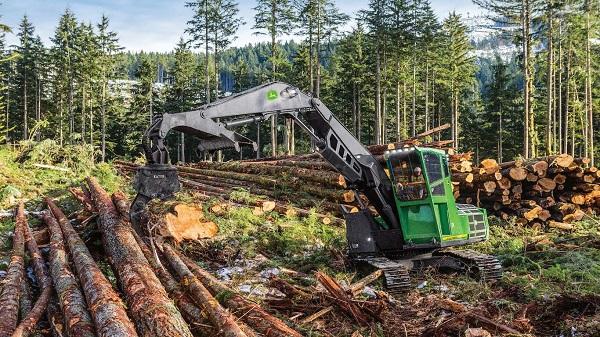 John Deere is rolling out increased options on its G-Series forestry swing machines, to help lower daily operating costs, boost productivity, and increase uptime. The improved machine design includes changes to the boom and arm cylinder guards, hood, and underdecking, as the company says in the press release received by Lesprom Network.
Additionally, the larger undercarriage offered on the 3754G and 3756G swing machines is now available on the 3145G and 3156G models, increasing productivity. A new front sunshade increases operator comfort and visibility in sunny conditions. The inclusion of a deck handrail increases operator safety while traversing the upper deck, and the redesigned 7-inch tool tray improves access and security.
Additionally, three previously optional features are now available as standard offerings. Available on all Final Tier 4 engine models, a standard pre-cleaner for engine air intake extends filter life and minimizes service frequency. Additionally, the auto-reversing fan, now standard on all machines, is controlled by a dash-mounted button that reverses airflow to eject debris from the cooler cores, reducing cooler-maintenance frequency. Finally, the extremely effective and durable LED light package, which includes access and service compartment lighting, is now standard.
"To take a good machine and make it better, we knew we needed to go to our customers. Their input has helped us engineer the best equipped swing machines to handle the daily demands loggers face," said Jarvis De Groot, product marketing manager, John Deere Construction & Forestry. "The new forestry swing machines were designed to increase uptime and reliability, even when navigating harsh and challenging terrain."