The Europac Group (Papeles y Cartones de Europa, S.A.) has developed a new packaging solution for drinks manufacturers: a box-ice bucket for bottles of wine and cava, designed by the Group's Packaging Division, which cools drinks and maintains the appropriate temperature for consumption.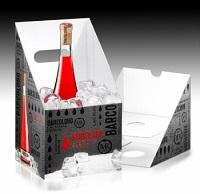 Basically, this is ready-to-use packaging that acts as a sales tool for the wine and cava industry. The box-ice bucket is packaging with high quality printing to be placed on shelves at points of sale, where it becomes a medium for communication and a marketing tool to attract the attention of consumers and to strengthen sales.
Carlos Larriba, director of Europac's Packaging Division said: "These developments demonstrate Europac's commitment to acting as a strategic partner that brings value both to its customers and to its customers' customers through innovative packaging solutions."