In October, prices for softwood lumber in the U.S. dropped 10.3% - the largest decline since May 2011, according to the Producer Price Index (PPI) release by the Bureau of Labor Statistics. The producer price index for softwood lumber has fallen 21.2% since setting the cycle and all-time high in June. Even after the decrease, however, the index currently sits just 4.7% lower than the prior-cycle high set in 2004, reported the National Association of Home Builders (NAHB).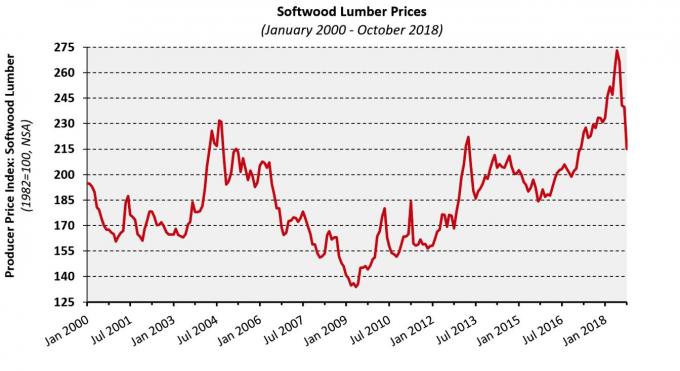 The final demand price index for OSB has followed a path similar to that of softwood lumber over the last three months.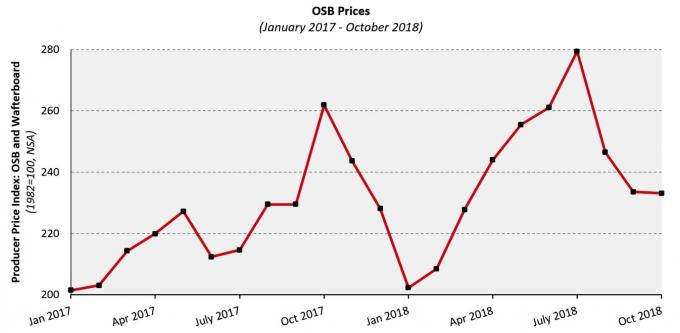 Since climbing 38.1% in the first seven months of 2018, OSB prices have fallen 16.6%. The price index for OSB is now 15.2% and 15.7% higher than it was to start 2018 and 2017, respectively.Residential construction goods input prices increased 0.4% in October and have now risen 7.5% over the last twelve months. The index decreased only twice during that period, by 0.1% and 0.5% in December 2017 and August 2018, respectively. Year-to-date residential construction goods input price increases in 2018 (+5.6) continue to outpace the increase during the same period in 2017 (+2.9%).