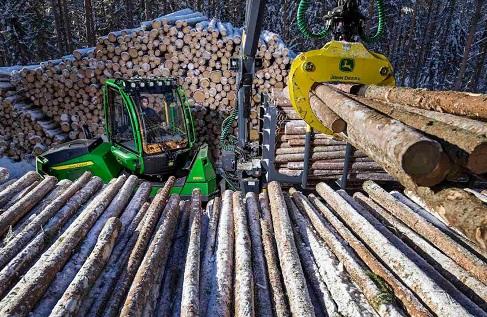 John Deere introduces new 910G and 1010G forwarders. Equipped with ultra-comfortable cabs and available with a variety of boom, load space, axle and cabin options, the 910G and 1010G machines can be customized for different worksites or operational needs.
Available in a six-wheeled or eight-wheeled configuration, the 910G and 1010G models are ideal for early-to-late thinning operations and smaller end final felling applications.
Both machines feature an improved design, including a shorter frame in front of the engine to reduce overhang, making operation easier in challenging terrain. Balanced bogie axles, rigid front axles on the six-wheel model, and an unbalanced front bogie axle option offer increased durability.
Additionally, the 1010G is designed for improved, terrain-friendly operation and performance in soft soil, and available with a low-ground pressure rear bogie axle option. The models can be equipped with one of two large load space options, narrow and wide, and the headboard offers better visibility to the load area.
The 910G and 1010G models are available with a fixed or rotating and leveling cab. The rotating and leveling cabin helps the operator maintain the correct working posture to prevent stress on the back and shoulder areas, even on uneven terrain, and reduces vibration during operation.
Both models are designed to enhance drivability and productivity, featuring a transmission with high tractive force and Adaptive Driveline Control (ADC). A first in the forestry industry, ADC improves drivability and productivity by allowing the operator can select the desired RPM setting (Eco, Normal, Power) for the operating conditions.