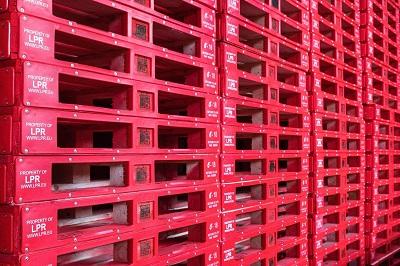 European pallet pooler LPR, has taken delivery of 1,200 UPALL® protected wooden pallets, as the company begins a 'real world' trial of the innovative new UPALL® pallet guard system, developed by James Jones & Sons (Pallets & Packaging) Ltd.
The UPALL® protective system has been in development since 2015 and sees robust plastic protectors fitted at the point of entry to heat treated PR80 wooden pallets. The wooden pallet components are protected during handling, loading and transportation, meaning the pallet lasts longer, requires fewer repairs and remains in circulation for longer.
The 1,200 LPR branded and colour coordinated UPALL® pallets were delivered by Tyldesley Distribution Services (TDS) and are now being used by one of LPR's major UK FMCG customers, to make deliveries into one of the UK's leading discount supermarkets.
Each of the 1,200 UPALL® protected pallets is fitted with two digital transponders, enabling LPR to closely monitor and track the pallets as they move between distribution centres. These transponders will enable LPR and James Jones to accurately assess and monitor the performance of each pallet in line with daily usage patterns.
Alongside the LPR field trial, the UPALL® system is also currently undergoing comprehensive testing at Napier University in Edinburgh, the findings of which will enable UPALL® to compile a full life cycle assessment report and demonstrate the potential cost savings UPALL® can offer and the positive impact it can have on the environment.