After a wild ride down then up over the past few months, most standard construction framing dimension softwood lumber prices in stabilized last week, to levels both producers and customers are comfortable with. Inventories remain spotty as sawmill production is still constrained and buyers continue to look for highly specified loads only, according to Madison's Lumber Reporter.
Purveyors of Western Spruce-Pine-Fir commodities in the United States described last week as similar to the previous one as most customers had their near-term needs covered and continued to be careful in their dealings. Players reported good consumption levels in Western and Southwestern states.
The largest producers of Western SPF in Canada noted that business came in fits and starts last week. Around midweek a large block of 2x4 R/L #2&Btr was snapped up with alacrity, but the remainder of the week was more focussed on digestion, as field inventories weren't as depleted as usual. Order files were now into the week of July 3rd on most items, with sawmills running two- to three-weeks late on existing orders.
For the week ending June 12, 2020, prices of most standard construction framing dimension softwood lumber items remained flat, with benchmark item WSPF 2x4 #2&Btr KD still at US$378 mfbm, as the week before. The price for this benchmark lumber commodity was up +$18, or +5% from one month ago. Compared to the same week in 2019 when it was US$376, this price is up +$2, or +1%.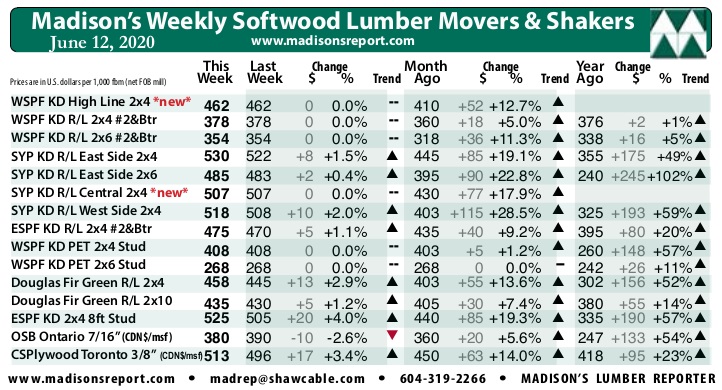 In the East, it was a sporadic week for lumber traders, with spurts of sales activity one moment and torpidity the next. Prices of most Eastern SPF widths and trims continued to appreciate however 2x8 had been in particularly short supply for some time and climbed the most, rising +$20 to $425 mfbm in the Toronto market and +$25 to $520 in the Great Lakes market. Last week started on a strong note as a large contingent of worried buyers jumped in at the same time, before sales activity comparatively quieted from Tuesday to Friday.
On the US Eastern Seaboard, the chaotic state of Northeastern US wood markets persisted last week according to Eastern stocking wholesalers. Everyone had come in hard with purchases over the previous two weeks, thus sales activity had reached a fever pitch and vendors hoarded wood. So last week the market was badly oversold. Meanwhile customers were calling incessantly, screaming for their expected deliveries.

Dropping slightly from one year ago, last week's Western S-P-F 2x4 price fell -$3, or -1%, relative to the 1-year rolling average price of US$381 mfbm and was down -$19, or -5%, relative to the 2-year rolling average price of US$397 mfbm.
The below table is a comparison of recent highs, in June 2018, and current June 2020 benchmark dimension softwood lumber 2x4 prices compared to historical highs of 2004/05 and compared to recent lows of September 2015: