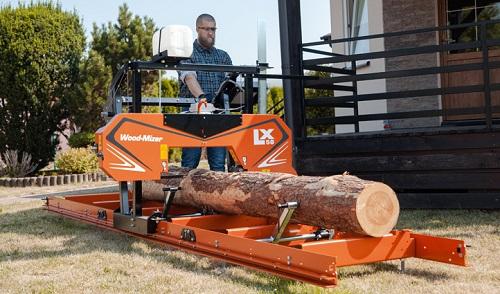 Wood-Mizer
introduces the compact, economical LX50 sawmill designed for woodworking hobbyists and small businesses looking for a high-quality entry-level sawmill, as the company says in the press release received by Lesprom Network.
The LX50 utilizes Wood-Mizer's thin-kerf sawmill blade technology to create less sawdust during processing which results in more final product yield from every log while using lower power consumption. Sawing with the LX50 is simple and user-friendly with manual log loading and clamping, hand crank blade positioning, and the push feed system.
A key innovation of the Wood-Mizer LX sawmill series includes the rigid LX Frame sawhead tower that holds the control panel, engine, and the sawmill head. The simple and sturdy sawmill design enables the LX50 to make accurate, precise cuts quickly and efficiently.
"Wood-Mizer is committed to providing both entry-level and high-production sawmill operations with the highest-quality equipment on the market," said Robert Baginski, Wood-Mizer Industries COO. "The LX50 sawmill fits the needs of entry-level sawmillers and woodworkers who require accurate sawn lumber at an economical price point."